About the Project
Through symposia at Montréal/Nouvelles Musiques and Oslo's Ultima Festival for Contemporary Music, as well as an exchange of researchers between Sweden and Québec, this project initiated a series of dialogues with key actors in the musical field to explore how issues of gender equality and cultural diversity in new music's were being impacted by the COVID-19 pandemic. Its objective was to aid conservatories, festivals, concert halls, and ensembles to develop sustainable new paths forward that are both artistically rigorous and engaging for today's audiences.
Newsletter Documentation
On September 15, 2021, we organized a series of roundtable conversations at the Ultima Oslo Contemporary Music Festival together with ca. 30 stakeholders in contemporary music mainly from across the Nordic Countries.
The results of those discussions have been captured in a series of four newsletters, illustrated by Lea Ye Gyoung. An archive of the newsletters is available here:
Taking the Temperature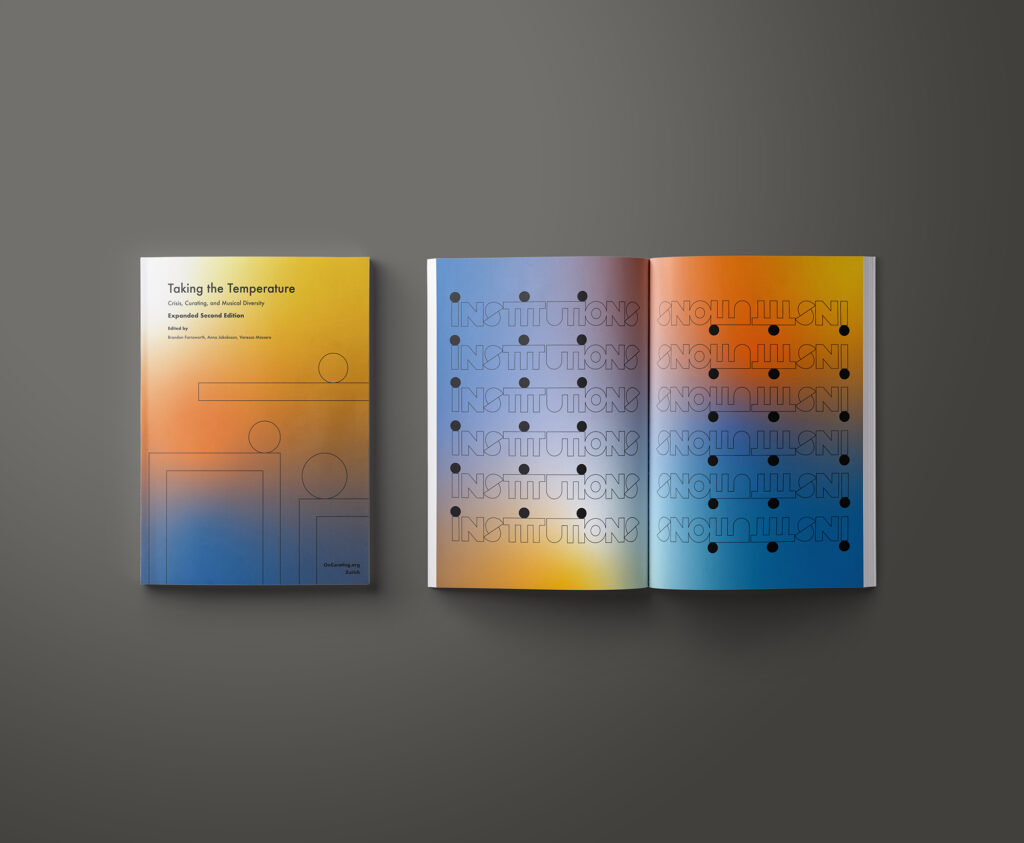 Taking the Temperature
Crisis, Curating, and Musical Diversity
(Second Expanded Edition)
Bringing together interviews with music curators, musicians, activist networks and institutional leaders, this book details existing practices and approaches, showing that change is possible but only if the recent wave of interest in curatorial practices, diversity and divestment from a white, European bourgeois aesthetic are taken seriously by the musical establishment.
This expanded second edition of Taking the Temperature adds a new preface, five new interviews, as well as followups with previous interviewees. Radiating out from the Ultima Festival and Oslo, Norway, it includes interviews with key figures representing institutions in Sweden, Finland, Denmark and Iceland, as well as a number of important perspectives from the Canadian and Quebecois musical landscapes. This book documents the growing number of efforts to fundamentally reimagine our musical institutions in response to the challenges our society faces today, how these institutions have faced unprecedented challenges posed by a global pandemic, as well as how a growing chorus of voices are calling for fundamental change.
Includes interviews with
Fredrik Andersson (Konserthuset Stockholm), Anna Berit Asp Christensen (SPOR Festival), Sandeep Bhagwati (Concordia University Montreal), Myriam Boucher (Canadian Electroacoustic Community, Codes d'Accès), Dena Davida (independent curator, Montreal), Gabriel Dharmoo (artist, Montreal), Marta Forsberg (Konstmusiksystrar), Bjørnar Habbestad (NyMusikk), Juliana Hodkinson (composer, Nordic Countries), Siri Haugan Holden (Balensekunst), Pauline Hogstrand (Damkapellet), Kasper Holten (Det Kongelige Teater), Merja Hottinen (Music Finland), Terri Hron (Canadian New Music Network), Adele Kosman (Konstmusiksystrar), Astrid Kvalbein (Norwegian Academy of Music), Marcela Lucatelli (SKLASH+), Anne Margvardsen (SPOR Festival), Peter Meanwell (Borealis – a festival for experimental music), Alain Mongeau (MUTEK), Ung Nordisk Musik, Anne Hilde Neset (Kunstnernes Hus), Tanja Orning (Norwegian Academy of Music), Tine Rude (Borealis – a festival for experimental music), Barbara Scales (Latitude 45, Canadian Music Centre), Thorbjørn Tønder Hansen (Ultima Festival), Jennifer Torrence (Norwegian Academy of Music), Helena Wessman (Royal College of Music Stockholm), Anna Xambó (WoNoMute)
22 x 28 cm (US Letter), 187 pages, Text in English
Cover and book design by Asia Pietrzyk

Published by OnCurating.org

This work is licensed under the Creative Commons Attribution-NonCommercial-NoDerivatives 4.0 International License.
Project Stakeholders
The project's stakeholders are Konstmusiksystrar (SE), Ultima Festival (NO), Concordia University/Matralab (QC), and SMCQ (Société de musique contemporaine du Québec) (QC).